When having idle money, should you save or buy a rental house? Depending on the specific purpose, each investment will bring different resources. However, the consideration of "pouring" money on the investment also requires investors to be cautious and learn thoroughly every option.
In the context of gold price and bank deposit, interest rates tend to decrease today, the investment in rental apartments is evaluated by experts as an attractive investment channel, potentially profitable, especially mid-to-high-end apartments meet the standards of security, synchronous services, and utilities.
According to data from the Ministry of Labor – Invalids and social affairs, as of the first quarter of 2017, there are nearly 84,000 foreign workers in the field of work permits, of which 90% have not owned real estate yet. Surveying the budget for renting apartments of high-class foreign personnel, the investment ranges from 1,500 to 5,000 USD/month on average.
However, the exploitation of the supply is not simply because the customer group requires high standards. Besides the requirement of quality apartments, accompanying services must meet modern standards, security conditions, synchronous utilities, and peaceful green living space.
In other words, this group of customers is willing to pay high rental rates for apartments that have an international standard of living quality.
High-class 1 – 2 bedroom apartments are increasingly worth the price
1-2 bedroom apartments are being paid attention by investors, especially in high-end segment projects. It is the high profitability, stability and low level of investment that are the reasons for creating this heat. Therefore, it is not uncommon for any project to open for sale, apartments of this type are always noticed by buyers.
Recent reports show that real estate has a high growth rate of FDI. The prospect of investment in luxury apartments for rent in the coming years is expected to be very bright as many multinational corporations shift their production to Vietnam. The number of tenants is mainly businessmen, experts, and foreign civil servants.
According to CBRE's research, the profit rate from rental apartments is higher than current savings rates. Specifically, high-end apartments for rent always maintain profitability rate of over 8%/year during the past 3 years. This is the second highest rate in Southeast Asia, only 10% behind Phnom Penh (Cambodia).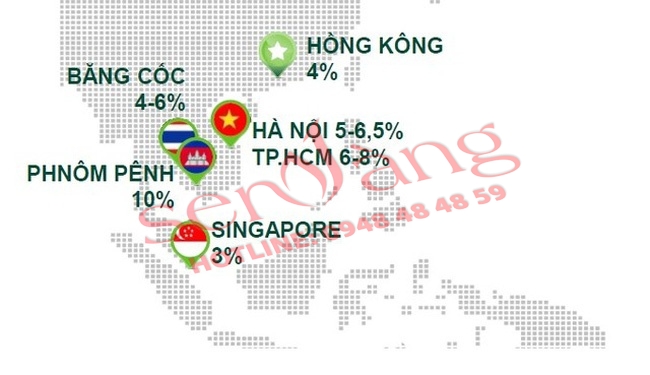 Apartment rental rates in Vietnam are quite high compared to many countries in Southeast Asia
The prospect of the luxury apartment rental market becomes clearer as many multinational corporations shift their production to Vietnam. Along with this trend, a large number of professionals and employees of corporations will have the demand to rent houses.
However, in the market, only a few projects meet the strict conditions of high-class tenants, concentrating mainly in Kim Ma, Trung Hoa Nhan Chinh, My Dinh, and Tay Ho areas which are safe places of residence of the foreign community in Hanoi. Profitability ratios of these projects are always high and stable. The average rental price range ranges from 900 to 1,500 USD/month, achieving a minimum of 8.6%/year, much higher than the current savings interest rate
Bank saving and inflation worry
If you are having an idle amount of VND 2 billion, you decide to save money in a bank with an interest rate of 12 months for a 12-month term. After one year, you will get a profit of VND 120 million. However, a problem that bank depositors should know is inflation. For example, if the inflation rate is 3% (equal to half of the 6% interest rate offered by the bank), it means you will have a deficit of up to 60 million. Therefore, your interest after one year will have to be used in half to pay for inflation. That's not to mention the years when the inflation rate is very high, about 5 – 6%, equivalent to the interest rate offered by the bank. So the amount of interest you receive in the bank is considered sufficient to pay for inflation.
It can be added that bank savings are a safe, risk-free investment channel that prevents headaches when thinking about capital loss. However, compared to the form of apartment rental investment, the profitability of savings deposit is somewhat less.
Advice for you when investing in rental apartments
Choose large-scale apartment projects or high-density dwellings: Projects with more apartments will make leasing easier, it will attract customers by forming services. in the building. The higher population density in the neighborhood, the better the possibility of renting, while the connected houses or villas should be located in areas with many houses and crowds.

In order to increase investment efficiency, choose a project that can receive rental housing right away, or a reputable investor to handover on time to increase investment efficiency and ensure cash flow.

Choose projects with a good living environment and high-quality services: Usually projects with a better living environment to ensure liquidity, as well as rental prices, are always better because it attracts many high-end customers.

If the project is building, it is necessary to select projects of reputable investors, big brands and especially well-known media owners.
In summary, the comparison problem between savings deposit and real estate investment shows us that the real estate investment plan is somewhat more beneficial than bank savings. That is not to mention the case in the future the value of real estate will be pushed up, the proceeds will certainly be higher in the form of savings.