As soon as the government makes concrete plans to develop the West Lake area into a new political and administrative center, expanding the central core of the capital, immediately the real estate in this area seems to add power to develop.
Open future of West Lake area
According to the development policy of Hanoi to 2030, with a vision of 2050, the western region will welcome a series of top departments including 13 Embassies, 6 ministries including Ministry of Planning and Investment, Ministry of Agriculture and Rural Development, Ministry of Justice, Ministry of Industry and Trade, Ministry of Transport and Ministry of Construction … will relocate here.
Besides good infrastructure, West of West Lake area also has Hoa Binh Park, Ngoai Giao Doan Park, West of West Lake Square… bringing harmonious green landscape. West of West Lake area has inherited convenient connectivity to central districts. Becoming a new administrative center in the future likened to a nuclear city of Hanoi.
Infrastructure problem has given the answer about the growth potential of real estate. Many urban areas are benefiting from this future planning map such as Nam Thang Long urban area (Ciputra), Embassy Garden project, Ngoai Giao Doan urban area, Tay Ho Tay urban area…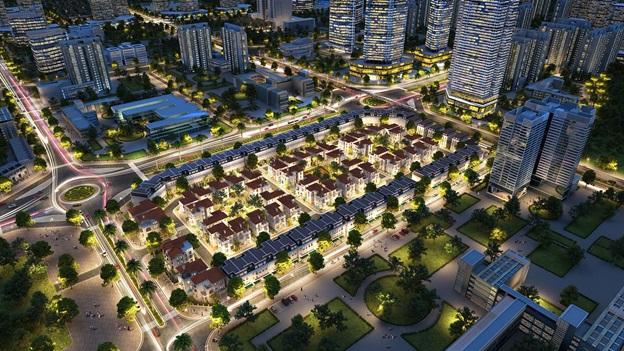 The development potential of the gateway project
Embassy Garden project is the gateway to Tay Ho Tay urban area. Located in lot A1-TT1 in the center of Tay Ho Tay urban area, the project is located in the North adjacent to Ngoai Giao Doan urban area. The West is adjacent to the extended Nguyen Van Huyen Street. The South is adjacent to the 60m road connecting Pham Van Dong to Vo Chi Cong street. The East of project opposite the planned land area became the administrative center of Xuan Tao ward, Bac Tu Liem, Hanoi. At this coordinates, Embassy Garden is directly connected to the major roads, about 6km from the center of Hoan Kiem, only 1km from West Lake, more than 1km from Ciputra urban area, more than 800m from Hoa Binh Park and only from Noi Bai airport 20 – 30 minutes drive.
Embassy Garden benefits from a utility system with transport and social infrastructure of Tay Ho Tay urban area in general. However, investors also plan additional internal facilities to bring future residents a favorable business environment and living environment. Besides the internal park with a spacious walkway, Embassy Garden also features a children's playground, mini golf course and greenery system, landscaping and utility shopping.
Villas and townhouses products will be handed over in the third quarter of 2018. In fact, construction progress is currently being implemented on schedule, the internal road system completed, green trees planted in public places while the townhouses and villas are finished the exterior with construction inside, stair parts and plastering.
If single villa products are considered to be the top choice for customers who need to buy or stay for a long time, the commercial townhouse will meet the needs of investors, or customers want to connect accommodation and business. Currently, the project is in the process of completing and preparing to hand over to customers so that the office leasing market and shops in the project area also started to become more vibrant.